Environmental Initiatives
Basic Policy
The Alfresa Group recognizes that environmental conservation is an important issue for an enterprise that is closely involved in people's health. Based on Our Promises in the Group's principles, the Group takes initiatives proactively to reduce its environmental impact at each stage, from manufacturing, to sale, to disposal of pharmaceuticals and other products.
Alfresa Group's Environmental Promotion Structure
The Alfresa Group has created a Group-wide environmental management structure and actively promotes environmental conservation activities, including the provision of environmental education for Group companies. The Group also collects and ascertains its environmental performance data properly based on Japan's Act on Promotion of Global Warming Countermeasures and Act on the Rational Use of Energy.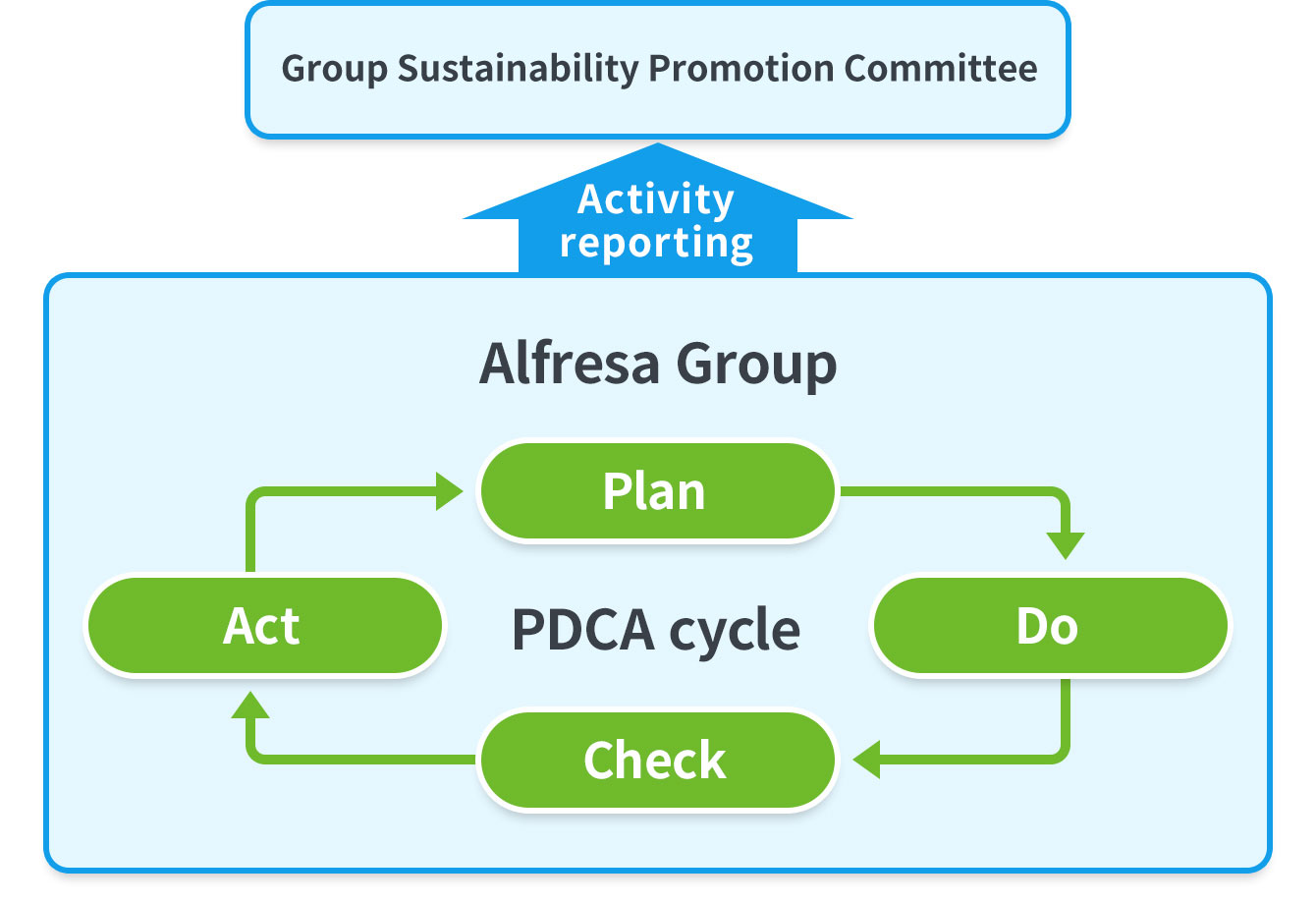 Environmental Management System
Some of the Groups business sites, such as plants for its Manufacturing business, have acquired ISO 14001 certification to help prevent pollution and protect the environment. The Group has established environmental protection promotion structures and is taking systematic measures.
Sites with ISO 14001 certification
ISO 14001

(International standard with specifications for environmental management systems)

Sannova Co., Ltd.
Alfresa Fine Chemical Corporation
Meisho Co., Ltd., Higashiyama Office, Arai Office

Efforts to Reduce Environmental Impact
The Alfresa Group's main environmental impact comes from the electricity used in offices, plants, and distribution centers, and the vehicle fuel used by our marketing specialists (MS) and delivery staff to visit medical institutions or deliver pharmaceuticals. This makes up nearly 90% of our overall energy usage.
Switch to Fuel-Efficient Vehicles and Promotion of Eco-Driving
The Group is introducing fuel-efficient vehicles, such as switching to light motor vehicles and hybrid cars. At the same time, we are reducing our fleets through efforts to optimize the number of vehicles. In addition, we have fitted fuel-efficient tires and implemented ecological, safe driving such as soft acceleration and steady speed traveling in an effort to reduce CO2 emissions and raise awareness of safe driving.
Implementing Electricity-Saving Measures
The Group is working to reduce electricity usage by ascer- taining the amount of power it uses and raising awareness of saving electricity, as well as converting to LED lighting at its distribution centers and so forth.
Waste-Reduction Measures
In its efforts to reduce waste, the Group strives to reuse paperboard from product packaging as a recycled resource by compacting it with a specialized machine and selling it to a service operator. This helps to reduce both waste- processing expenses and environmental impact.
Environmental Management System
Some of the Group's business sites, such as manufacturing business plants, have acquired ISO 14001 certificationto help prevent pollution and protect the environment.
Currently, four locations have obtained the certification.
They have established environmental protection promotion structures and are taking systematic measures.